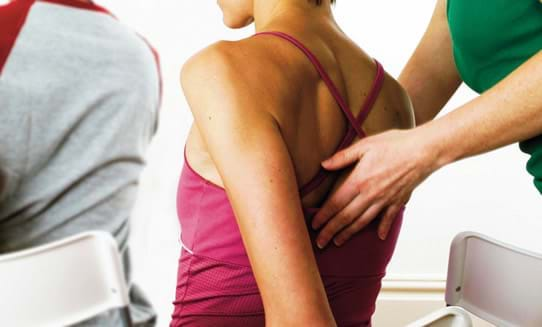 Fix Your

Lower Back Pain.

Disc Injuries.

Mechanical Back Pain.

Chronic Lower Back Pain.

Osteoarthritis.
The lower back or lumbar spine supports the upper body and transmits the weight and movement of our bodies to the pelvis and the lower legs. It is involved in all we do, from our movements, to the support of our posture, even when sitting or sedentary.
The lower back is made up of five vertebrae, each with two joints and a disc. The facet joints direct the movement of the lumbar spine, while the discs are our shock absorbers. The pelvis can be included her with the lower back as it is thought that up to 70% of all back pain sufferers will have some pain and poor movement in the pelvic joints. The pelvis is made up of three big bones. There are three joints in the pelvis – the pubic joint and two sacro-iliac joints at your buttock region. The pelvis is a 'load transfer' station it transfers all weights and movements of your body as you go about your day.
Estimates from the Australian Bureau of Statistics 2017–18 National Health estimate about 4 million Australians (16% of the population) have back problems. It is estimated that 70–90% of people will suffer from lower back pain in some form at some point in their lives.